The Top 3 Reasons to Work With a Mortgage Broker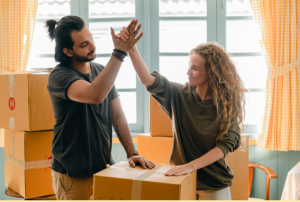 You're in the market to buy a home, a huge milestone you have been working toward for what feels like forever. 
But it looks like buying a home was a lot more straightforward in your head. 
Questions you don't have the answers to are starting to pile up…
Do you need a loan?
How do you qualify for a loan? 
How do you choose a lender?
Are the next six months of your life going to be dedicated to paperwork and trying to understand mortgage loan gibberish?
The short answer is no. 

Qualifying for a loan can be made easy by working with a mortgage broker. 
What is a mortgage broker?
A mortgage broker is a licensed professional who helps borrowers find and secure a mortgage loan to purchase or refinance a home. 
→ Mortgage brokers must meet certain requirements, which include passing a background check and completing education and training courses. 
Unlike loan officers, who often work for one specific lender, mortgage brokers work with a variety of wholesale lenders to find the best mortgage rates and terms for their clients. 
What are the benefits of working with a mortgage broker?
Now that you know what a mortgage broker is, why do you need one? Here are a few reasons:
You will have access to a broader range of lenders.
You are looking for the most convenient, streamlined process.
You want to work with someone who's an expert in the industry. 
Let's dive a bit deeper and see why working with a mortgage broker is more important than you may have originally believed.
1. Mortgage Brokers have access to a broader range of lenders. 
You may be wondering: Why is it important to have options?
Mortgage brokers have relationships with a variety of wholesale lenders, including banks, credit unions, and private lenders. This gives you access to a wider range of mortgage products and lenders, which can increase your chances of finding a mortgage that meets your needs with lower rates and fees. 
A mortgage broker will gather important information that can help them connect you with lenders that are most suited for your circumstances.  Buying a home is an important decision and the lender you choose will impact the rate and fees you pay. 
While it might feel overwhelming to know what to look out for, a mortgage broker is meant to get to know you and help determine a course of action. Being well-informed and knowing how to utilize today's mortgage rates to your advantage are crucial when shopping for a lender. 
2. Mortgage Brokers save you time and effort. 
You want your dream home, but you're intimidated by the long and grueling process of finding a lender and getting approved for a loan.
A mortgage broker can do the legwork for you by shopping around for the best mortgage rates and terms from a variety of lenders, in turn saving you time and effort in finding a mortgage that meets your needs.
Not only will they connect you with a lender, but they will also assist you in gathering all the necessary information, and submitting your loan file to the lender for loan approval.
→ During this "underwriting" process, you are attempting to prove to the lender you are a credit-worthy borrower and meet all the requirements their loan program may have. A lender wants to know the following: 
How likely is it you will make your mortgage payments? 
What is your history with making payments on time? 
Do you have a steady stream of income that can be expected to continue?

 
Determining those answers can take a lot of back and forth. But don't let intimidating questions scare you away. Having an expert by your side will help you stay informed and proactive, and they will make the ultimate difference between a complex, confusing process and a stress-free one. 
3. Mortgage Brokers are experts in the industry.
Instead of going into the process blind,  you can work with someone that has a deep understanding of the industry and can help you find a mortgage that meets your specific needs and financial situation. 
Mortgage brokers have experience working with homebuyers in varying circumstances. A good mortgage broker will have knowledge of the various loan products and options available and can provide you with expert advice and guidance to help you make the best decision for your situation and future goals. 
This can be especially helpful for first-time homebuyers who may not be familiar with the process. Or, perhaps you want the confidence of a licensed professional to help you make informed decisions during the mortgage loan process, which in that case, is a great option. 
So, why is working with a mortgage broker worth it?
Overall, working with a mortgage broker will give you the confidence and clarity you desire from start to finish. Using a mortgage broker can save you time, money, and stress by helping you find the right mortgage and navigate the process. By making the simple choice to work with a mortgage broker, you can remove the biggest obstacle in the lending process – uncertainty. 
Ready for the next step?
We'd be happy to assist you. Contact us for a free consultation.